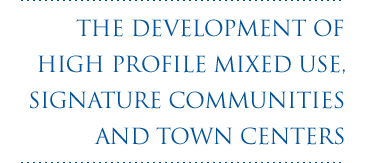 Business Strategy Overview
Build a diversified business derived from current strengths and leverage our consulting experience into a higher growth, higher margin of business.
Our goal is to maintain a personal creed based on integrity and principles and to ensure that people have the utmost confidence in us and that they are content and satisfied.
By utilizing our expertise in the careful selection of key locations to maximize, the potential to develop signature communities and to pay specific attention to all of the fine details involved with the development of these types of communities in order to set them apart from other communities.
Establish stringent guidelines for all of our developments to achieve the highest quality results possible.
Establish stringent guidelines for all of our developments as to achieve the highest quality results possible.
Maximize our collective resources, which are comprised of many of the top consultants, engineering firms and contractors in the world. These include invaluable relationships with local, state and federal jurisdictions and lawmakers, which have been cultivated over many years.
Utilize established relationships with well-recognized homebuilders to promote marketing of our communities and entice quality homebuilders to purchase building lots and build within our communities.
Make quality, workmanship, presentation and careful planning priorities.
Reinvest the profits of the initial projects to finance other similar projects to be developed by Glacier Development LLC in the future.
Establish high standards and expectations.
Utilize value engineering whenever possible but with emphasis on quality over cost.
All of the values listed above are priority criteria at all times in order to maintain quality, accountability, loyalty, dedication, and a high moral level resulting in a higher productivity level while minimizing mistakes.